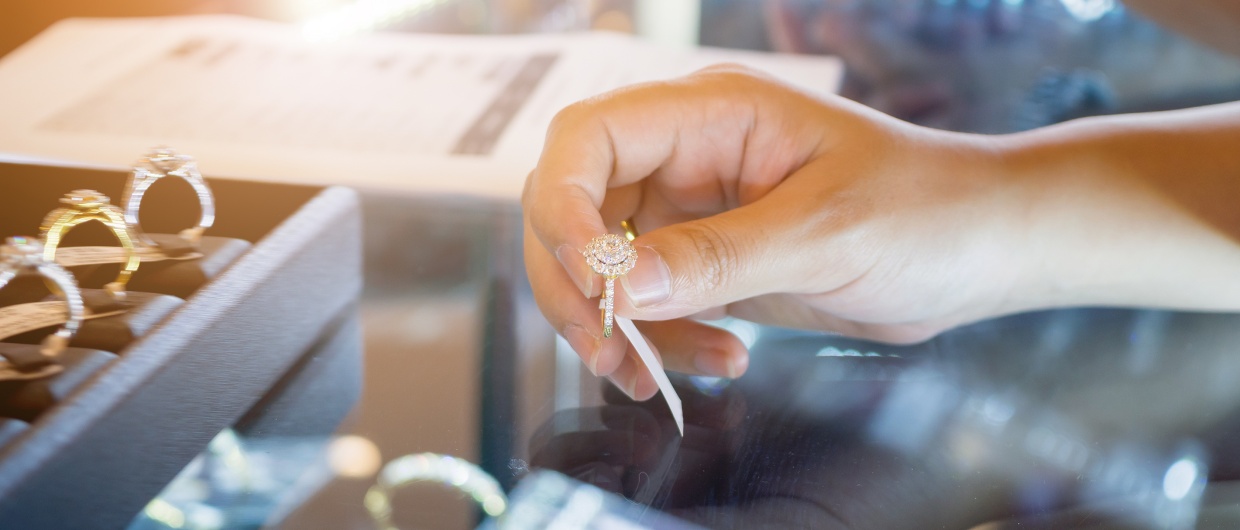 Choosing an Engagement Ring
If you've found yourself here, you're likely laying plans to ask your special someone to spend forever with you- and to that we say, congratulations! That's a big decision.
As you well know, choosing the right engagement ring plays a big part in these plans. Obviously, you want to choose a ring that reminds you of your soon-to-be life partner and makes them feel the love you have for them. The engagement ring you choose serves as a symbol of your lifelong commitment to the most treasured person in your life. It also represents the beauty of your relationship to everyone who sees it. For those reasons, you should weigh your options carefully when shopping for an engagement ring. This can seem like a lot to take on, but it's actually simpler than you might think!
We've compiled this information to help you on your journey to choosing the right engagement ring. If you have any questions along the way, don't hesitate to contact your nearest location and ask away.

When you are planning to propose and are choosing an engagement ring, we suggest looking at both engagement ring and wedding band combos. This can help you visualize not just what the engagement ring will look like, but give you the bigger picture and help you decide which might be more fitting for your special someone.
We took the time to make a list of some beautiful engagement ring and wedding band combos that are going to look amazing their ring finger for years to come.
See Engagement Ring and Wedding Band Combo Examples

Choosing the perfect engagement ring takes time, so have patience with yourself as you explore your options. You really want to take the necessary time to make sure you've chosen the right ring. Part of that is understanding your options. Here are some resources that can help you understand what kinds of options are available to you:

Looking at case after case of engagement rings trying to find the right one can be overwhelming. There's an easier way to find exactly what you're looking for (if you know what that is). First thing's first, figure out what your significant other already likes. Check their Pinterest board for ideas (if they have one), ask their friends to see if they've mentioned their preferences, or (if you're comfortable with it) take your special someone to one of our stores to have them show you the kinds of things they do and don't like in a ring. Once you've narrowed it down, you can use our digital ring design tool to choose the right engagement ring!

You fell in love with your partner for so many reasons, and you want your ring to reflect that. Why not choose to customize your engagement ring to infuse a sense of your loved one's personality and ensure they get a piece that is unlike anyone else's?
Some couples choose a different center gemstone, as opposed to a traditional diamond. Perhaps your partner has inherited heirloom gems they want to incorporate into their ring. Our professional jewelry designers can offer many ways in which to capture the beauty and elegance you are looking for while crafting an unmatched piece that comes straight from the heart.
If ring shopping seems overwhelming, or you are worried a custom-designed ring will be outside your budget, working with our professional jewelry designers can help streamline the experience and make sure you end up with the perfect ring for the person you care about most. We understand that your engagement ring is much more than just another piece of jewelry. It's a symbol of the bond you share that says "I love you" every time you look at it.
Learn More About Custom Engagement Rings

Whether you're looking for budget-friendly alternatives or want your ring to stand out from the rest, there are a lot of reasons to consider non-diamond engagement rings. Choosing a gemstone other than a diamond isn't to every person's taste, but it does create opportunities to find a style that suits your needs and tastes perfectly.
If you and your partner are thinking about breaking with tradition and opting for an alternative gemstone, there are plenty of non-diamond engagement ring ideas to consider.
Learn More About Non-Traditional Engagement Rings

This will be one of the most important and memorable days of your life, and we want to help you make the most of it! When looking for an engagement ring, finding a diamond, or picking out wedding bands, Grogan Jewelers will help you make an informed buying decision so that you are 100% satisfied with your purchase.